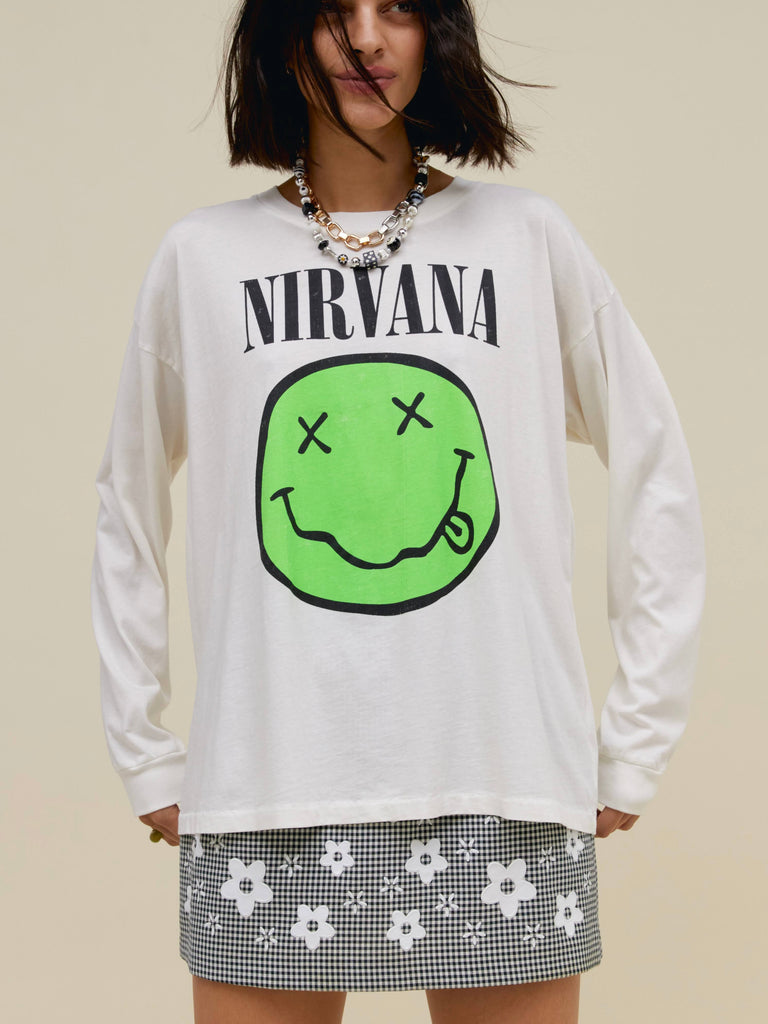 Nirvana Smiley Long Sleeve Merch Tee
Nirvana Smiley Long Sleeve Merch Tee
$92.00
FROM DAYDREAMER: 
The voice of a generation, a "genius blend," and one of the most demanded artists on our roster - Nirvana. Responsible for single-handedly catapulting frenzied alternative rock into the mainstream, Nirvana turned the music industry and pop culture on its head. With their hard-charging songs of dirgey, down-tuned rock'n'roll, punk spirit and their captivating showmanship, Nirvana wasn't just a grunge band, Nirvana was grunge. As the story goes, Cobain drew Nirvana's infamous smiley face logo on a 1991 flyer announcing the launch party of their industry changing album, "Nevermind." Still one of the most enduring images of the band's career, a reissue of one of our best-selling graphics featuring this legendary logo hits this long sleeve merch tee with an iconic slogan associated with the boys stamped on the back. A classic piece of memorabilia made to feel like you just left Nirvana's concert yesterday.
Made from a 100% cotton fabric, feels like a luxury tour shirt with the perfect drape

A blend of our Weekend Tee and OS Tee, this tee is meant to fit like that perfect vintage tee find. The Merch Tee is a roomy fit, with an open neck and ladder stitch hems

Made by your team of Daydreamers, right here in Los Angeles

Model is wearing size S

Size S measures chest width: 23 ¼" length: 27"